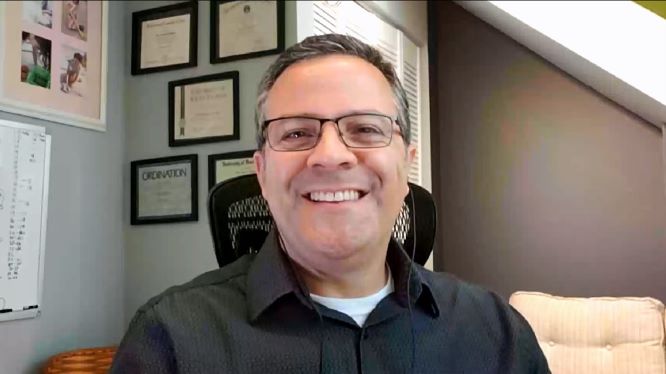 Digital transformation helps Humana build COVID-19 test site finder in one month
September 20, 2020
When health insurance company Humana Inc. started its digital transformation about two years ago, there was no sign of the COVID-19 pandemic on the horizon, and the company's goal was to build new and better ways to interact with customers.
But when the coronavirus crisis hit the world, Humana was able to offer much more than just a good experience — it responded quickly to new demands that emerged as a result of the pandemic and built an effective way for users to find COVID-19 test sites in one month.
"The testing locations change constantly, the type of tests they have, the supplies that they have, the hours of operations," said Bruce Buttles (pictured), digital channels director at Humana. "So that's really where this COVID-19 test location came from; it was out of the genesis of what we had started doing on the provider finder."
Buttles spoke with Stu Miniman, host of theCUBE, SiliconANGLE Media's livestreaming studio, during the NextStep 2020 event. They discussed Humana's digital transformation before the pandemic, how this process helped the company remain agile during the crisis, and Humana's experience using solutions from application development platform provider OutSystems Inc. (* Disclosure below.)
Becoming a full-service healthcare business
The starting point for Humana's transformation was the goal of moving from being just a health insurance company to becoming a full-service healthcare business, according to Buttles. "Our heart truly desires to reach our customers in new and better ways, to meet their needs not only that we know they have today, but to anticipate and forecast what those needs are going to be tomorrow," he explained.
One of the first action items was to improve the search channels for health providers by users.
"We realized that one of our top five interactions that our customers do is [that] they come to our websites and our apps looking for a doctor or looking for a hospital or a clinic or a pharmacy; an eye doctor, a dentist, etc." he said. "It's one of the top five interactions on our site, and what we realized is that it was a very disjointed experience."
This was because the way of searching for each provider was different. So, in addition to making life difficult for customers, this structure required different technical solutions. And the cost of maintaining these disparate solutions prevented innovation, Buttles pointed out. The idea was then to unify all these finders into a single provider finder.
When the pandemic started this year, this new provider finder was already working, and Humana could use it as a basis to meet a new and urgent customer need, which was an efficient way to find COVID-19 test sites.
"The COVID-19 testing locations are … just another type of provider, so with that perspective, we started building a full back-office suite where we had a team of 30 to 40 analysts constantly looking across the United States and validating testing location information, hours of operation, calling them, making sure that they're accurate and then importing all the information into the centralized database that was in OutSystems. We quickly were able to build a customer experience where they could self-serve," Buttles explained.
Humana spent about a month building the back office and then implementing the first version for its customers.
"We probably would have taken about four months using traditional methods; so instead of four months, [it was] about a month [with OutSystems]," Buttles said. "That's pretty consistent to what we've seen with all of the apps that we've built so far with OutSystems. We're seeing about four times the value — I like to say 4x value in that being a quarter of the cost, a quarter of the time, and we typically will overdeliver on scope."
Watch the complete video interview below, and be sure to check out more of SiliconANGLE's and theCUBE's coverage of the NextStep 2020 event. (* Disclosure: TheCUBE is a paid media partner for NextStep 2020. Neither OutSystems Inc., the sponsor for theCUBE's event coverage, nor other sponsors have editorial control over content on theCUBE or SiliconANGLE.)
Photo: SiliconANGLE
---
Since you're here …
Show your support for our mission with our one-click subscription to our YouTube channel (below). The more subscribers we have, the more YouTube will suggest relevant enterprise and emerging technology content to you. Thanks!
Support our mission:    >>>>>>  SUBSCRIBE NOW >>>>>>  to our YouTube channel.
… We'd also like to tell you about our mission and how you can help us fulfill it. SiliconANGLE Media Inc.'s business model is based on the intrinsic value of the content, not advertising. Unlike many online publications, we don't have a paywall or run banner advertising, because we want to keep our journalism open, without influence or the need to chase traffic.The journalism, reporting and commentary on SiliconANGLE — along with live, unscripted video from our Silicon Valley studio and globe-trotting video teams at theCUBE — take a lot of hard work, time and money. Keeping the quality high requires the support of sponsors who are aligned with our vision of ad-free journalism content.
If you like the reporting, video interviews and other ad-free content here, please take a moment to check out a sample of the video content supported by our sponsors, tweet your support, and keep coming back to SiliconANGLE.